If you have children who need writing support because their writing is immature for their age here are a few ICT ideas that might help.
If they can use ordinary keyboards and mice then typing longer pieces might be more supportive for them than writing. Lots of children type with the forefinger of one hand, maybe two hands. They will need to be reminded to try and use two hands and more fingers. Following tutorials that give them some regular typing practice would be a great idea.  I thoroughly recommend PurpleMash's 2Type which gives videos for posture and finger positioning and has great games as well as graded exercises for learning the keyboard. If you don't subscribe to PurpleMash than try  the BBC Dance Mat typing website or Doorwayonline
Some typing for 10/15 minutes each day, if possible, will increase keyboard familiarity and typing proficiency. Some typing programmes and word processors are very supportive of spelling as the fingers "remember" spellings with repetition.
Could you set up a typing club for before or after school or in a lunch time?
It is a good idea to have apps/software that supports speech, language, reading and writing.
If you have computers available regularly for word processing children who are struggling with their writing would find it easier to use Clicker 7 for writing. Clicker 7  allows the making of voice notes and has a predictor bar as well as grids of words to support writing. Clicker 7 also includes "Clicker Board" which is a planning tool, allowing the child to make a mind map and then turn that into a grid of words. It also has an excellent predictor bar.
Subject specific grids of words are useful in supporting children's output, giving them some of the words to jog memory and help frame sentences.
Clicker supports sentence building and word processing. The subject specific words can be clicked on and heard before being selected to put in the document. Clicker supports spelling and speeds up typing.
Clicker apps can also be purchased for Chromebooks   and iPads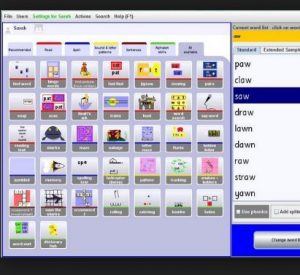 Also for spellings: Wordshark  is a great piece of software for learning spellings. It has word lists suitable for learners from KS1 to KS4, including subject specific words. There are exciting games to play for each list of words.
It is possible to record scores and progress through levels.
If they don't need anything special by way of input device, they can use ordinary keyboards but you would first want to check that they don't need any sort of extra equipment, e.g. a keyguard on a keyboard for a child with weak wrists (because of a condition like ehlers danloss syndrome or cerebral palsy) or a mini mouse for  very small hands.
Younger children might find it useful to have something to record their voices on to remind them of things?  When the teacher gives instructions, perhaps they can be spoken onto an MP3 recorder and the children can play back the instructions as needed. They could also make their own audio notes.  They might use Easi-speaks (for sale through TTS  )
Easi-speak records voices and sounds very simply. It holds up to 2 hours of messages and is ideal for
messages, notes for writing, instructions which can be played back one at a time by using the forward and rewind buttons. They could use it to record ideas for a piece of work/plot and then go back to it if they forget what they are doing.
If you use iPads
Clicker Docs has a predictor bar and grids of words to support writing. It is easy to make your own word grids.
OR
 Clicker Sentences app for writing simple and more advanced sentences:  has lots of readymade resources but it is also really easy to make your own sentence grids. Sentences can be very simple or more complicated.
The app allows the user to see/hear a sentence and then replicate it. The app also allows for a large degree of differentiation so is useful for very early learners upwards. 
It might help to have headphones if  pupils are working in a classroom with others. I suggest Clevy headphones from Inclusive Technology  as they  are smart looking and rugged.
It is worth looking at all the iPad Accessibility Options.
Speak Selection lets the user highlight text in any application and will read the text. Users can increase the font size in various apps and iPad also offers an audio option for confirming keyboard actions. Guided Access locks apps so that the user can't navigate out of an app until the activity is complete. etc
With the iBooks app (available as a free download), ebooks can be downloaded, organised, and read. iBooks is compatible with VoiceOver, so you can have books read aloud. It is possible to read in different orientations and to choose larger font sizes or different fonts.
Then for saving books, files and notes:
Dropbox (for saving files) free 
Evernote (notebooks for different subjects) free.
 On the iPad a mind mapping app is Popplet,   (also an App from Kidspiration   )
Other great iPad apps are:
Explain Everything     brilliant app for combining drawing voice text and pictures.
Our Story for putting together photos and speech and text    (From the OU)
There is a dictation app (Dragon Dictate)  which is free for the ipad and allows the making of notes by speaking into the iPad as well. This might be particularly useful for homework (when it is quieter)
If you are in London and have the LGFL
If you get your connectivity through the LGFL there is a huge amount of free software
On the LGFL, Busy Things are some graded typing exercises:  http://busythings.lgfl.org.uk/
WordQ SpeakQ is free on the LGFL: is an easy-to-use and powerful literacy tool that helps young people who can type, but have trouble with writing, grammar and spelling. It includes Word Prediction, Speech Recognition and Spoken Feedback and it can be installed on staff, pupil or school computers. The Word Q Speak Q toolbar can be used online or offline on any programme you type text into.  WordQ SpeakQ is for learners with any writing issues, such as those with dyslexia, dyspraxia, ASC, ADHD, physical difficulties and learning difficulties. However, the inclusive software can support and improve the writing of learners with or without recognised additional needs, in ANY year group.  You could put it on computers in school, for free if you use the LGFL.
The LGFL also has lots of free applications for supporting students, including  J2E Tool Suite for creating, editing and publishing work. https://www.lgfl.net/learning-resources/summary-page/j2e-tool-suite
I like this because in J2E you can have word lists and hear the words spoken before adding them to text.
BusyThings on the LGFL has got great content for EYFS-KS2 https://content.lgfl.org.uk/secure/busythings/
There are lots of activities for all aspects of the curriculum, including lots of spelling activities, sound discrimination, phonics, letter recognition, typing familiar tales, counting, shape, space eand templates for writing. There are some great fun typing activities as well which support the development of spelling and keyboard awareness.